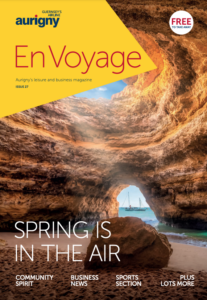 During 2023 we will be publishing a series of articles regarding, mainly, our contribution to industry in Guernsey. These articles will be added to this page as they are published. We hope they are informative and that you get more of a taste of our ethics, values and practices.
Technology has revolutionised the printing world.
Printed In Guernsey has set aside the old, non-sustainable printing practices and has embraced the future. New techniques now ensure that there is minimal paper waste, the print quality is better, it's more cost-effective for the printer, delivers more value to the customer and is kinder to the planet. –> Issue30
Three Million Items and Counting! : Issue29
Read about Embellishing Opportunities and Offering More : Issue28
Read about how are working towards lowering our environmental impact here :  Printed_issue27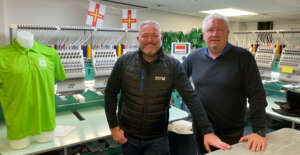 Printed In Guernsey Acquires Ego Motifs
One of the best-known clothing embellishment and embroidery businesses in the Channel Islands has been bought by Printed In Guernsey. Ego Motifs has supplied businesses, charities, schools, States' departments and sports clubs with a large number of personalised or branded clothing items for many years. 
Andy Fothergill, the joint managing director of Printed In Guernsey, says he is delighted to continue offering this to the community but also to make a full range of other services available that were not previously accessible at Ego Motifs.
"If a firm wants its uniforms or workwear embellished we would love to do that. But, now they can also get their business cards designed and printed, their company vehicles branded and their invoices printed and posted all in one place, here in Guernsey with a local firm. It is a complete service which we know the market has wanted for a while."
The new arrangement has hit the ground running with Printed In Guernsey supplying over 5000 clothing items for local volunteers at the NatWest International Island Games which take place in July. All of these were printed in-house at the factory in St Sampsons.
Guernsey 2023 Games Director Julia Bowditch says:
"At Guernsey 2023 we are trying to make our event as sustainable and low-carbon as we can. To get the services of a local business such as Printed In Guernsey is very important to us. It means we can get all of our volunteer clothing sourced, designed, printed and delivered on-island, reducing our environmental footprint while also supporting local business.
"We will be getting their assistance on other printed materials too."
As official merchandisers to Guernsey 2023, the company will also be producing a range of souvenirs that will be available as keep-sakes of the event which was originally scheduled to take place in summer 2021 but was delayed because of the pandemic.
"We know that businesses value good bespoke customer service," says Andy.
"If they can discuss all of their printing and embroidery requirements with one contact rather than several it speeds up the process, increases trust and lowers the cost.
"With the latest digital printing technology, we can print onto almost anything. With companies having to put more focus on their carbon footprint, the rising cost of postage and transportation, delays due to UK industrial action and a desire to support Guernsey businesses we are already seeing more and more clients coming to us for a wide variety of requirements. It makes ecological and business sense!"